Cosplays
Edit
Background
Edit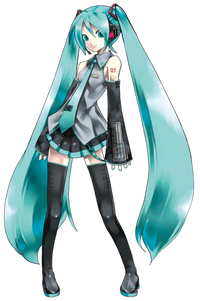 Hatsune Miku, codenamed CV01, was the first Japanese VOCALOID to be both developed and distributed by Crypton Future Media, Inc.
The digital design on Miku's skirt and boots is based off synthesizer program colours, and the bars represent actual bars within the program, following Crypton's ideas. Part of her design is based on some of YAMAHA's keyboard models, particularly the DX-100 and the DX-7. The thin squares around her pigtails are futuristic ribbons made of a special material that floats in place. As seen in KEI's art for Miku, they are able to hold Miku's pigtails in place without having to physically touch the hair itself. The ribbons are also reported by KEI to be the hardest item on the character's design for cosplayers to recreate.[1]
References
Edit
Ad blocker interference detected!
Wikia is a free-to-use site that makes money from advertising. We have a modified experience for viewers using ad blockers

Wikia is not accessible if you've made further modifications. Remove the custom ad blocker rule(s) and the page will load as expected.