Cosplays
Edit
Background
Edit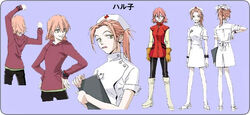 This character is from the Fooly Cooly (FLCL) series.
Haruko Haruhara is an energetic, spontaneous, hot pink-haired girl from outer-space, and investigator for the Galactic Space Patrol Brotherhood/Stellar Fraternity. She claims to be 19 years old, but it is impossible to know if this is the truth. In the first episode, she runs over Naota with her Vespa and hits him on the head with her bass guitar. Soon after she's hired by Naota's father, Kamon, as a house maid. She is called Haruha Raharu by Amarao; this may be another alias, however.[1]
References
Edit
Ad blocker interference detected!
Wikia is a free-to-use site that makes money from advertising. We have a modified experience for viewers using ad blockers

Wikia is not accessible if you've made further modifications. Remove the custom ad blocker rule(s) and the page will load as expected.