Cosplays
Edit
Background
Edit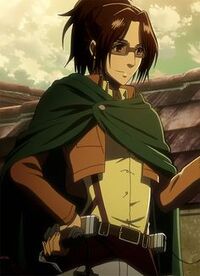 This character is from The Attack on Titan series.
Hange Zoë is a high standing, veteran member of the Survey Corps and a squad leader in charge of the fourth squad. She is an interim commander and the successor to Erwin Smith if he is forced to abandon or becomes unable to continue in his position as commander of the Survey Corps. Hange conducts research on Titans to the point of being obsessed with them and as such, is deeply interested in Eren Yeager who has the ability to shift into a Titan.
Hange has long, dark, unkempt brown hair that is kept tied up in a high pony tail with bangs parted down the middle. She wears square, thick-rimmed glasses that have bands going around her head to keep them from dislodging during combat, but when out of combat she wears thin oval shaped glasses, still keeping the bands on her head most of the time. Hange also has wide, brown eyes with a slight golden tint to them. She is seen wearing the normal Survey Corps uniform with a yellow button up shirt underneath and when on missions she wears the traditional green Survey Corps cloak.[1]
References
Edit
Ad blocker interference detected!
Wikia is a free-to-use site that makes money from advertising. We have a modified experience for viewers using ad blockers

Wikia is not accessible if you've made further modifications. Remove the custom ad blocker rule(s) and the page will load as expected.