Crossplays
Edit
Background
Edit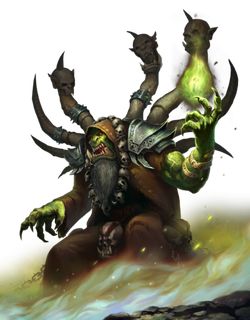 This character is from the Warcraft franchise.
Gul'dan of the Stormreaver Clan was a former orcish shaman of the Shadowmoon Clan from Draenor, who became the first orcish warlock as well as the founder of the Orcish Horde.
Abandoning the ways of shamanism and betraying both his people and his mentor to the demon-lord Kil'jaeden for personal gain and power, Gul'dan was directly responsible for the orcs' fall to demonic enslavement as well as for the Horde's invasion of Azeroth.
Tutored by the lord of the Burning Legion, he became the founder and master of the Shadow Council as well as the creator of the necromantic terrors known as Death-Knights. Gul'dan is considered by many to have been the most cunning and powerful mortal Warlock to ever have existed. He often referred to himself as "Darkness Incarnate" and "The Destroyer of Dreams".[1]
References
Edit