Crossplays
Edit
Unless identified as a specific character in the Corps, female cosplays are included here.
Background
Edit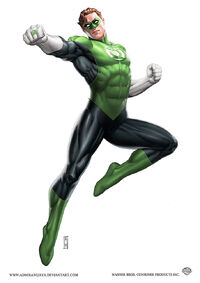 Green Lantern is a fictional superhero who appears in American comic books published by DC Comics. It is both the name given to the superhero and the Green Lantern Corps. They fight evil with the aid of rings which grant them a variety of extraordinary powers[1]. Over the years there have been many Green Lanterns from many different areas of the universe, though the most well known from earth are Hal Jordan, Guy Gardner, and Kyle Rayner.
References
Edit
Ad blocker interference detected!
Wikia is a free-to-use site that makes money from advertising. We have a modified experience for viewers using ad blockers

Wikia is not accessible if you've made further modifications. Remove the custom ad blocker rule(s) and the page will load as expected.