Cosplays
Edit
Background
Edit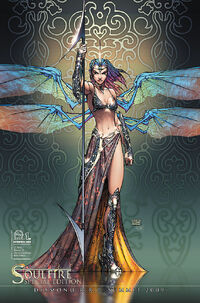 Though she appears youthful, Grace is thousands of years old. She was born and came of age during the "last Age of Magic", an ancient time when magic was plentiful on Earth and all manner of creatures now considered mythical (such as dragons) still existed.
During the events that culminated with the Dying of the Light, Grace was a princess of the Kingdom of Empyrea; however, as a plague destroyed all things magical and the Age ended, she faded into obscurity. While most magical beings, including almost all of the Rahtumi, perished, Grace somehow survived, though losing both her wings and her access to magic.[1]
References
Edit
Ad blocker interference detected!
Wikia is a free-to-use site that makes money from advertising. We have a modified experience for viewers using ad blockers

Wikia is not accessible if you've made further modifications. Remove the custom ad blocker rule(s) and the page will load as expected.