Crossplays
Edit
Background
Edit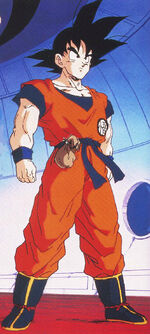 Son Goku is a male Saiyan and the main protagonist of the Dragon Ball metaseries. Cheerful, tenacious and also a bit naive, Goku is originally sent to Earth as an infant with the mission to destroy it. However, an accident alters his memory, causing him to grow up pure-hearted and later become Earth's greatest defender, as well as the informal leader of the Z Fighters. Throughout his life, he trains hard and constantly strives to be the greatest warrior possible and to fight stronger opponents, which has kept the Earth and the Universe as a whole safe from destruction many times.[1]
References
Edit
Ad blocker interference detected!
Wikia is a free-to-use site that makes money from advertising. We have a modified experience for viewers using ad blockers

Wikia is not accessible if you've made further modifications. Remove the custom ad blocker rule(s) and the page will load as expected.