Cosplays
Edit
Background
Edit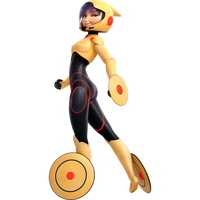 This character is from Big Hero 6.
Stoic and strong, yet loyal to the bone, Go Go is an industrial design and mechanical engineering student at the San Fransokyo Institute of Technology. After a mysterious fire shatters peace and happiness in San Fransokyo, Go Go lends her athletic abilities and "need for speed" to help form the city's newest superhero team, Big Hero 6.
Aptly named Go Go Tomago knows what it takes to be fast. She's tough, athletic and loyal to the bone, but not much of a conversationalist. Popping bubble gum and delivering well-placed sarcasm are totally her speed. The daredevil adrenaline junkie is at her best on wheels, and when Go Go joins forces with Big Hero 6, she rolls like never before, using maglev discs as wheels, shields and throwing weapons.[1]
References
Edit
Ad blocker interference detected!
Wikia is a free-to-use site that makes money from advertising. We have a modified experience for viewers using ad blockers

Wikia is not accessible if you've made further modifications. Remove the custom ad blocker rule(s) and the page will load as expected.