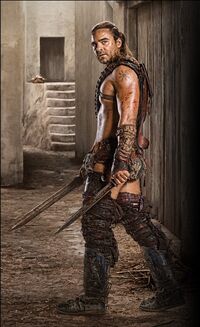 Gannicus is a central character and anti-hero in Spartacus. He serves as champion in Batiatus' Ludus throughout the events of the prequel, Gods of the Arena, until his departure upon earning his freedom in the aftermath of the Games of the New Arena. He later returns in Vengeance initially as an acquaintance to the rebels, criticizing their cause against the Roman Republic, though he ironically becomes a rebel himself for the sake of his closest friend, Oenomaus.
He is often referred to by others as a "God of the Arena" due to his legendary fights as a gladiator that had led to winning his freedom.[1]
Cosplays
Edit
References
Edit
Ad blocker interference detected!
Wikia is a free-to-use site that makes money from advertising. We have a modified experience for viewers using ad blockers

Wikia is not accessible if you've made further modifications. Remove the custom ad blocker rule(s) and the page will load as expected.