Crossplays
Edit
Background
Edit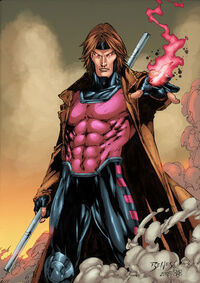 Remy LeBeau (aka Gambit) is a mutant who was trained to be the leader of the Thieves Guild. Abandoned at birth due to his burning red eyes, the child who would one day become Remy LeBeau was kidnapped from his hospital ward by members of the New Orleans Thieves Guild who referred to the child as "le diable blanc" - the white devil.
A member of the X-Men, Remy has the power to take the potential energy stored in an object and convert it to kinetic energy thus "charging" that item with explosive results.[1]
References
Edit
Ad blocker interference detected!
Wikia is a free-to-use site that makes money from advertising. We have a modified experience for viewers using ad blockers

Wikia is not accessible if you've made further modifications. Remove the custom ad blocker rule(s) and the page will load as expected.