Cosplays
Edit
Background
Edit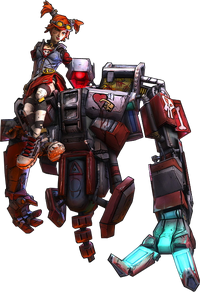 Gaige was a high school student from the planet Eden-5. She originally conceived Deathtrap, then called DT, as a science fair project to combat bullying. Her rival, Marcie Holloway, was a contestant in the science fair as well, and used her father's money to buy her way through the competition. Marcie apparently stole Gaige's DT designs and sold them to Eden-5's police force.
On the day of the science fair, Marcie's father bribed the judges, helping win her first place with a defective robot based on Deathtrap's blueprints. Gaige placed third. Marcie then shoved Gaige, causing Deathtrap to identify her as a hostile. Deathtrap attacked with its claws, causing her to explode due to a miscalibration by Gaige. Gaige was escorted to the principal's office, and faced expulsion and arrest for accidentally murdering her rival. She called her father to create a distraction to help her evade arrest, and bought a ticket to Pandora, where she stowed away on a train leading to Windshear Waste.[1]
References
Edit
Ad blocker interference detected!
Wikia is a free-to-use site that makes money from advertising. We have a modified experience for viewers using ad blockers

Wikia is not accessible if you've made further modifications. Remove the custom ad blocker rule(s) and the page will load as expected.