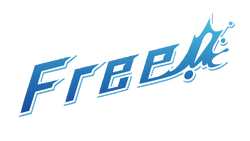 Free! is a Japanese anime television series directed by Hiroko Utsumi and produced by Kyoto Animation and Animation Do. It's based on the novel High☆Speed! written by Kōji Ōji.
Haruka, Rin, Makoto, and Nagisa used to be the members of the same swimming club in elementary school. They won a tournament just before their graduation and then they went separate ways. Time passed and now Haruka has been spending his high school days idly. One day, Rin comes to Haruka and challenges him to a swim. Haruka easily gets overwhelmed by Rin's swimming skills. In order to beat Rin, Haruka establishes the "Iwatobi High School Swimming Club" by gathering Makoto and Nagisa again and drafting in Rei.[1]
Below are characters on the site that cosplayers have depicted.
Characters
Edit
References
Edit