Crossplays
Edit
Background
Edit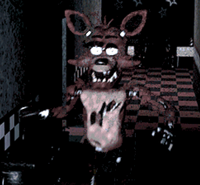 This character is from Five Nights at Freddy's
As his name suggests, Foxy is a large, animatronic fox with crimson, tattered fur. He has yellow eyes, red eyebrows and three strings of hair from the top of his head. He has a hook for his right hand and his left hand has been worn down to the endoskeleton. He also bears an eye patch that is folded over his right eye. He is usually seen with it above his eye rather than covering it. Unlike the stereotypical fox, Foxy doesn't have a tail.
Foxy wears brown linen pants that are especially shredded at the legs. He appears to be damaged, as parts of his machinery are exposed. It can clearly be seen that both his legs, with the exception of his upper thighs, and his left hand is completely bare, exposing the metal endoskeleton. His chest is ripped in various places, showing the endoskeleton beneath, and his arms and stomach are torn apart as well. He also seems to have a slightly droopy left eyelid.[1]
References
Edit
Ad blocker interference detected!
Wikia is a free-to-use site that makes money from advertising. We have a modified experience for viewers using ad blockers

Wikia is not accessible if you've made further modifications. Remove the custom ad blocker rule(s) and the page will load as expected.