Crossplays
Edit
Background
Edit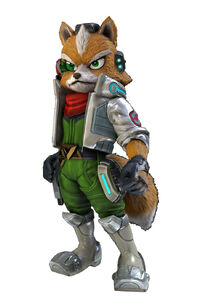 Fox McCloud is an anthropomorphic red fox and the main protagonist of the Star Fox series, who sometimes literally goes by the name of Star Fox, especially by his many enemies. He is additionally a pilot, combatant, adventurer, and leader of the Star Fox team.
Fox is the son of James McCloud, who edified him throughout his childhood to never give up. Fox McCloud was a cadet at the Cornerian Defense Army Academy when he heard the news that his father, James McCloud, had met a violent end at the hands of the twisted genius, Andross.
Only James's wingman, Peppy Hare, managed to limp home in his badly damaged starfighter. As the only survivor of the original Star Fox Team, Peppy insisted that the young Fox take on the leadership of the group and form a new team of pilots. Thrust into the leadership role that he wasn't prepared for, Fox recruited the hot-tempered Falco Lombardi and the mechanical genius Slippy Toad to make up the new Star Fox Team.[1]
References
Edit
Ad blocker interference detected!
Wikia is a free-to-use site that makes money from advertising. We have a modified experience for viewers using ad blockers

Wikia is not accessible if you've made further modifications. Remove the custom ad blocker rule(s) and the page will load as expected.