Cosplays
Edit
Background
Edit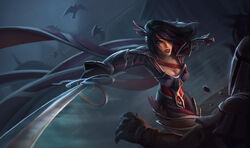 This character is from League of Legends.
Fiora, Demacia's most notorious duelist, earned her fame with her sharp blade and sharper tongue. She boasts the refinement of an aristocratic upbringing, and a fierce devotion to the perfection of her craft. Having surpassed her peers at home, Fiora now seeks greater foes. She will settle for nothing less than the world's acknowledgement of her mastery.[1]
References
Edit
Ad blocker interference detected!
Wikia is a free-to-use site that makes money from advertising. We have a modified experience for viewers using ad blockers

Wikia is not accessible if you've made further modifications. Remove the custom ad blocker rule(s) and the page will load as expected.