Cosplays
Edit
Background
Edit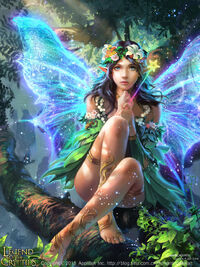 Fairies are generally described as human in appearance and having magical powers. Their origins are less clear in the folklore, being variously dead, or some form of demon, or a species completely independent of humans or angels. Folklorists have suggested that their actual origin lies in a conquered race living in hiding, or in religious beliefs that lost currency with the advent of Christianity. These explanations are not necessarily incompatible, and they may be traceable to multiple sources.
Although in modern culture they are often depicted as young, sometimes winged, humanoids of small stature, they originally were depicted quite differently: tall, radiant, angelic beings or short, wizened trolls being two of the commonly mentioned forms. Diminutive fairies of one kind or another have been recorded for centuries, but occur alongside the human-sized beings; these have been depicted as ranging in size from very tiny up to the size of a human child. Even with these small fairies, however, their small size may be magically assumed rather than constant. Some fairies though normally quite small were able to dilate their figures to imitate humans.[1]
References
Edit
Ad blocker interference detected!
Wikia is a free-to-use site that makes money from advertising. We have a modified experience for viewers using ad blockers

Wikia is not accessible if you've made further modifications. Remove the custom ad blocker rule(s) and the page will load as expected.