Cosplays
Edit
Crossplays
Edit
Background
Edit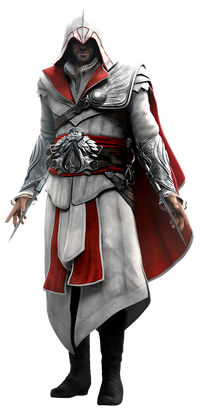 This character is from Assassin's Creed.
Ezio Auditore da Firenze was a Florentine nobleman during the Renaissance, and, unbeknownst to most historians and philosophers, the Mentor of the Italian Brotherhood of Assassins, a title which he held from 1503 to 1513. He is also an ancestor to William and Desmond Miles, as well as Clay Kaczmarek.
A member of the House of Auditore, Ezio remained unaware of his Assassin heritage until the age of 17, when he witnessed the hanging of his father and two brothers, Federico and Petruccio. Forced to flee his birthplace with his remaining family members - his mother and sister - Ezio took refuge in the Tuscan town of Monteriggioni, at the Villa Auditore.
After learning of his heritage from his uncle, Mario Auditore, Ezio began his Assassin training and set about on his quest for vengeance against the Templar Order, and their Grand Master, Rodrigo Borgia, who had ordered the execution of his kin.[1]
References
Edit