Cosplays
Edit
Background
Edit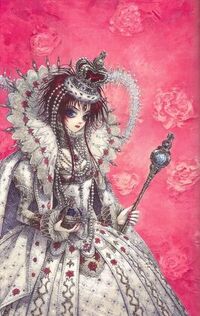 Esther Blanchett is one of the main protagonists of Trinity Blood.
In the manga, Esther is a more short-tempered girl with a strong sense of justice. She is a member of the human resistance who first appears under the guise of a boy. Abel crashes into her as he was fighting off crows. She attempts to stop Gyula's tyranny, but her church is destroyed by the Star of Sorrow, killing her foster mother in the process. After witnessing Gyula sacrifice his life for her's, Esther questions why people have to kill each other, and she eventually sets off on a journey to find an answer.[1]
References
Edit
Ad blocker interference detected!
Wikia is a free-to-use site that makes money from advertising. We have a modified experience for viewers using ad blockers

Wikia is not accessible if you've made further modifications. Remove the custom ad blocker rule(s) and the page will load as expected.