Cosplays
Edit
Background
Edit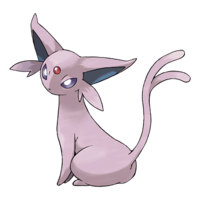 Espeon is a quadrupedal mammalian Pokémon with a cat-like appearance. Sleek and lilac/lavender purple fur covers its body. It has red jewel encrusted on its forehead; this jewel glows whenever Espeon uses its Psychic abilities. Its face is distinctly cat-like with a short, blunt muzzle and a tiny triangular nose. It has long pointed ears almost similar to a fennec fox, and whisker-like tufts of fur protruding from either side of its face just below its ears. Its eyes are deep purple and almond-shaped with white pupils. It has a slender tail that tapers into two ends, as if splitting into two.[1]
References
Edit
Ad blocker interference detected!
Wikia is a free-to-use site that makes money from advertising. We have a modified experience for viewers using ad blockers

Wikia is not accessible if you've made further modifications. Remove the custom ad blocker rule(s) and the page will load as expected.