Cosplays
Edit
Background
Edit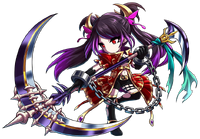 This character is from the Brave Frontier game.
Elza is the second imperial princess of the Bariura Empire, and the only one of Alice's sisters who actually shares the same mother. She showed great ability and brilliance since infancy, thus a lot came to be expected from her in the future. However, she apparently committed a sin when she tried to protect her younger sister from a sinister plot by her relatives to take over the throne, and was imprisoned for a long time. Knowing that she was being falsely accused, the emperor kept her imprisoned anyway, but would sometimes have her carry out missions in absolute secrecy. She was released just before the great war with the gods, but the emperor commanded her to protect Alice over his own self.[1]
References
Edit
Ad blocker interference detected!
Wikia is a free-to-use site that makes money from advertising. We have a modified experience for viewers using ad blockers

Wikia is not accessible if you've made further modifications. Remove the custom ad blocker rule(s) and the page will load as expected.