Cosplays
Edit
Background
Edit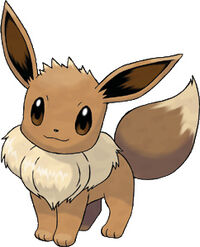 Eevee is from the Pokémon universe.
Eevee is a small quadruped mammalian fennec fox-like creature with bushy brown fur. Its muzzle is blunt and cat-like, with a small black triangular nose. It has a fluffy cream-colored mane around its neck, and a short bushy tail with a cream-colored tip. Eevee has round deep brown eyes, long rabbit-like ears, and pink paw pads on its feet. Its paws are small with three toes and no visible claws.
Eevee as well as its evolutions, possesses mammalian traits from different types of animals. Its body structure is fox-like, while it resembles a domesticated puppy. Eevee is said to have an irregularly shaped genetic structure, enabling it to evolve into multiple Pokémon.[1]
References
Edit
Ad blocker interference detected!
Wikia is a free-to-use site that makes money from advertising. We have a modified experience for viewers using ad blockers

Wikia is not accessible if you've made further modifications. Remove the custom ad blocker rule(s) and the page will load as expected.