Cosplay reference kit
Edit
Default skin from Heroes of the Storm (Lunara)
Background
Edit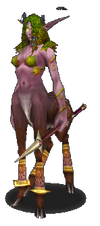 Dryads are daughters of the demigod Cenarius. They monitor the health of Kalimdor's forests, ever watchful against the depredations of evil magic. The creature has the head, arms, and torso of a beautiful night elf woman, but the lower body of a fawn. A gentle calm is evident in her eyes, but she hefts a spear with practiced skill. It doesn't look like she wants to use the spear in her hand — but if she had to, she could.
Ad blocker interference detected!
Wikia is a free-to-use site that makes money from advertising. We have a modified experience for viewers using ad blockers

Wikia is not accessible if you've made further modifications. Remove the custom ad blocker rule(s) and the page will load as expected.