Cosplays
Edit
Background
Edit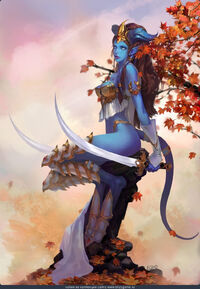 The draenei are a faction of uncorrupted eredar who fled their home world of Argus, and again from Draenor following the corruption of the orcs as part of Kil'Jaedan's plot to wipe out the draenei. Their base is on the Azuremyst Isles, near the west coast of Kalimdor, and they are part of the Alliance in the Burning Crusade expansion. Their capital city is the Exodar.
Draenei males have tendrils coming out of their chin and a fan-like forehead plate which rises and overlaps other forehead plates behind it. Male draenei have large tails which are held erect by developed muscle structure. The female of the species exhibits marked differences: rather than the forehead plates featured on the male, they have vaguely horn-shaped cranial extensions that extend over the upper cranium and end on either side of the crown. Female cranial tendrils sprout behind the ear and are typically long enough to reach the shoulders.[1]
References
Edit
Ad blocker interference detected!
Wikia is a free-to-use site that makes money from advertising. We have a modified experience for viewers using ad blockers

Wikia is not accessible if you've made further modifications. Remove the custom ad blocker rule(s) and the page will load as expected.