Cosplays
Edit
Background
Edit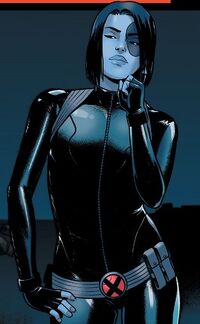 The woman who would become known as Domino was actually the result of a top-secret government breeding program intended to develop the perfect weapon. Domino was the only test subject to survive, but her "luck" power was deemed a failure to meet the project's goals. Domino's biological mother broke her out of the project and left her with Father Rudolpho Boschelli, in the Church of the Sacred Heart in Chicago. Domino eventually escaped from the Church and became a mercenary.[1]
References
Edit
Ad blocker interference detected!
Wikia is a free-to-use site that makes money from advertising. We have a modified experience for viewers using ad blockers

Wikia is not accessible if you've made further modifications. Remove the custom ad blocker rule(s) and the page will load as expected.