Cosplays
Edit
Background
Edit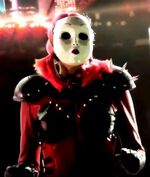 Dollface is a driver in the Twisted Metal series. After college, Dollface worked for a maskmaker named Mr. Kreel as an assistant. One day, she accidently spilled coffee on some documents, which infuriated her boss. Enraged, Mr. Kreel sealed a mask onto her, nailing the mask onto her face and using an odd-shaped key to make sure the mask never comes off. He then storms out of his office, leaving her alone. Dollface is sent to Blackfield Asylum where she remained alone for seven years. Calypso visits her, ultimately inviting her to join his Twisted Metal contest.[1]
References
Edit
Ad blocker interference detected!
Wikia is a free-to-use site that makes money from advertising. We have a modified experience for viewers using ad blockers

Wikia is not accessible if you've made further modifications. Remove the custom ad blocker rule(s) and the page will load as expected.