Cosplays
Edit
Background
Edit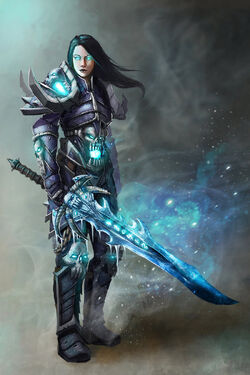 Death knights are from the World of Warcraft universe.
Years after the destruction of Draenor, the immensely powerful Lich King created a new breed of death knights: malevolent, rune-wielding warriors of the Scourge. The first and greatest of these was the Lich King's chosen champion, Prince Arthas Menethil, once a mighty paladin of the Silver Hand who sacrificed his soul to claim the runeblade Frostmourne in a desperate bid to save his people. The rest are primarily made up of other fallen paladins whose souls were twisted and bound to the will of the Frozen Throne.
Unlike Gul'dan's death knights, these dark champions possess unholy strength; however, they do not possess free will and their minds are inexorably entwined with and dominated by the Lich King's vast consciousness. Despite the potential loss of free will, some powerful mortals are intrigued by the promise of immortality and pledge their souls freely into the Lich King's service to achieve it.[1]
References
Edit