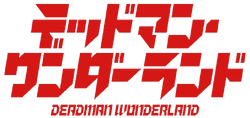 Deadman Wonderland is Japan's only privately operated prison, built after the Great Tokyo Earthquake on ground zero. It gathers prisoners from all over Japan and raises money for the revival of the destroyed metropolis. To the public and the tourists that visit daily, Deadman Wonderland is a massive theme park-like facility run by the prison population.
Unbeknownst to the general population, most of the prison's attractions involve cruel games of survival where many inmates lose their lives or are maimed for the entertainment of an oblivious public. The prison also runs a secret gladiator-like game called the Carnival Corpse, where wealthy anonymous donors pay to watch deathmatches between the prison's Deadmen. Deadmen who are defeated yet survive the game, have a part of their anatomy surgically removed for scientific research. In a cruel twist, the loser spins a macabre slot-machine to determine which part of their body will be removed, with the show being broadcast live to the other prisoners. The winner is awarded a large amount of Cast Points, life-saving candies and other prizes.[1]
Below are characters on the site that cosplayers have depicted.
Characters
Edit
References
Edit