Cosplays
Edit
Background
Edit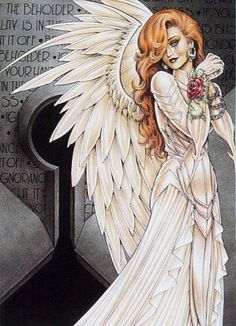 This character is from the Dawn comics by Linsner.
Dawn is the goddess of birth and rebirth. While her appearance depends on who is viewing her, she is generally depicted as a young, red-haired woman with three "tears" running from her left eye (and two running from her right eye, on the few occasions that it has been shown); during the witch hunt, witches were discovered to only cry from their left eyes. She also has a rose on one wrist and a chain on the other. The rose represents Hell, and although it has beauty, it only pricks and hurts a person; the chain represents Heaven because a person can only go so far before they are stopped short by its restrictions. Dawn is the guardian of all the witches on Earth, and the goddess to whom they pray.[1]
References
Edit
Ad blocker interference detected!
Wikia is a free-to-use site that makes money from advertising. We have a modified experience for viewers using ad blockers

Wikia is not accessible if you've made further modifications. Remove the custom ad blocker rule(s) and the page will load as expected.