Cosplays
Edit
Background
Edit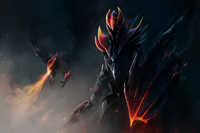 Abandoned and forsaken as a child, the half-bred Dragon Davion sought refuge from the evils of the world, and from the uncontrollable power growing within himself. His search led him to the doorstep of a mighty Druid, who taught him to tap into the massive energies that lay concealed in his blood - a tribute to his ancient Draconian heritage. A master swordsman, Davion smites his foes in his raging frenzy - transforming at will into an Elder Dragon of destructive fiery rage to crush all those that threaten to vanquish his new home.[1]
References
Edit
Ad blocker interference detected!
Wikia is a free-to-use site that makes money from advertising. We have a modified experience for viewers using ad blockers

Wikia is not accessible if you've made further modifications. Remove the custom ad blocker rule(s) and the page will load as expected.