Cosplays
Edit
Background
Edit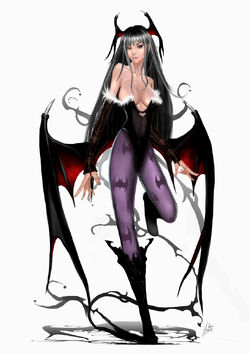 Morrigan Aensland is a fictional character in the video game series Darkstalkers. She first appeared in Darkstalkers: The Night Warriors (Vampire: The Night Warriors in Japan). She is an anti-hero and a main protagonist alongside Demitri Maximoff. In the series main canon, Morrigan's father, Belial Aensland, had split her power into three. Later in the events of Vampire Savior, Jedah Dohma would find part of this power and give it a body as Lilith.
Morrigan Aensland is a succubus who was born in 1678 in a region of Scotland. Berial foresaw that Makai would be exposed to the crisis of perishing soon. Someone, a great Life Form, would be needed to maintain the unbalanced world of Makai. He foresaw that one with such power would not be born in the family of Aensland for another 1,200 years. Knowing this, he decided to leave the future of the Aensland family in Morrigan's hands. To Berial, the future of the Aensland family was the same as the future of Makai.[1]
References
Edit
Ad blocker interference detected!
Wikia is a free-to-use site that makes money from advertising. We have a modified experience for viewers using ad blockers

Wikia is not accessible if you've made further modifications. Remove the custom ad blocker rule(s) and the page will load as expected.