Cosplays
Edit
Background
Edit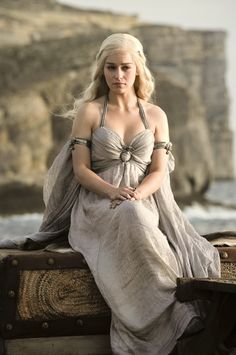 Daenerys Targaryen is the only surviving child of King Aerys II Targaryen, who was ousted from the Iron Throne during Robert's Rebellion. Daenerys's mother was sent to safety on Dragonstone island just before the Sack of King's Landing, and died giving birth to her during a great storm which destroyed the remaining Targaryen fleet at anchor, earning her the sobriquet Daenerys Stormborn. She lived in exile in Essos and was briefly a guest of Illyrio Mopatis, until she was sold into marriage by her brother to the Dothraki Khal Drogo; the two gradually fell in love, but she lost her husband and stillborn son to the manipulations of the vengeful maegi Mirri Maz Duur.
Her marriage to Drogo and subsequent interaction with the Dothraki people gives her the confidence and strength to lead and the belief in herself as the rightful queen of the Seven Kingdoms. Following the death of her brother Viserys, Daenerys was left as the last Targaryen, and intends to claim the Iron Throne as her birthright. She formally styles herself as Queen Daenerys of House Targaryen, First of Her Name.[1]
Tutorials
Edit
References
Edit
Ad blocker interference detected!
Wikia is a free-to-use site that makes money from advertising. We have a modified experience for viewers using ad blockers

Wikia is not accessible if you've made further modifications. Remove the custom ad blocker rule(s) and the page will load as expected.