Cosplays
Edit
Background
Edit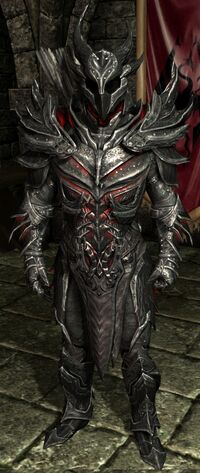 "I can only tell you tales of how to make Daedric armor. I have never seen it myself, nor do I know anyone that has. The stories say that it should always be worked on at night... ideally under a new or full moon, and never during an eclipse. A red harvest moon is best. Ebony is the principle material, but at the right moment a daedra heart must be thrown into the fire."[1]
References
Edit
Ad blocker interference detected!
Wikia is a free-to-use site that makes money from advertising. We have a modified experience for viewers using ad blockers

Wikia is not accessible if you've made further modifications. Remove the custom ad blocker rule(s) and the page will load as expected.