Crossplays
Edit
Background
Edit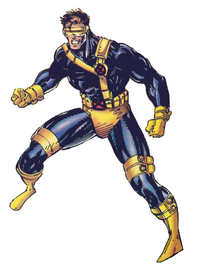 The reluctant leader of the X-Men who shoots concussive blasts from his eyes, Scott Summers has been fighting for the peaceful coexistence of mutants and humans most of his life. Cyclops has been deputy leader of the X-Men since his teen years and has seen the team go through a myriad of changes.
Briefly, with the founding members of X-Men, Scott joined X-Factor, but later returned to the X-Men. Marrying the clone of his long-time love, Jean Grey, Madelyne Pryor, Scott later had a son, who would grow-up to become Cable. After the death of his first wife, Scott married Jean, but later began to have an affair with sex therapist and former villain, Emma Frost. After the death of Jean, Scott and Emma now lead the X-Men. A brilliant tactician, Scott eventually became a natural commander of all mutants left on the planet after M-Day, leading them through some of the hardest times in their lives.[1]
References
Edit
Ad blocker interference detected!
Wikia is a free-to-use site that makes money from advertising. We have a modified experience for viewers using ad blockers

Wikia is not accessible if you've made further modifications. Remove the custom ad blocker rule(s) and the page will load as expected.