Cosplays
Edit
Background
Edit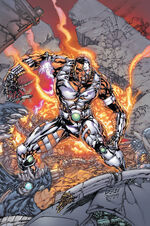 Cyborg, also known as Victor Stone, is a superhero who is half man and half machine. His body was destroyed in a tragic accident, but he was saved through experimental technology; his body parts have been replaced with a large arsenal of high-tech gadgets and weaponry, while constantly providing life support. Stone struggles with his humanity as a machine, although his advancements have made him an unstoppable powerhouse. He has primarily been a member of the Teen Titans.[1]
References
Edit
Ad blocker interference detected!
Wikia is a free-to-use site that makes money from advertising. We have a modified experience for viewers using ad blockers

Wikia is not accessible if you've made further modifications. Remove the custom ad blocker rule(s) and the page will load as expected.