Cosplays
Edit
Background
Edit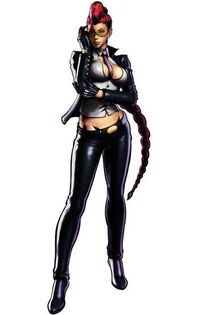 Crimson Viper, also known as Maya, is a character in the Street Fighter series. She is an American fighter who enters and participates in S.I.N.'s tournament under the guise of acquiring data for the Battle Suit for S.I.N., though her true motives are to acquire data from the BLECE Project, in addition to eliminating "Number 15".
Crimson Viper wears a specially designed Battle Suit for the tournament, developed and manufactured by S.I.N.. When inquired by an Executive as to the reason for her participation in the tournament, she states that she's the only test subject to fully utilize the suit's capabilities effectively, and thus is the prime candidate for the field test.
The suit is remarkable in the sense that it resembles an ordinary business suit, though two weapons lurk within the accompanying gloves and boots. The Battle Suit presumably does not protect the wearer from damage, as it was designed for stealth and ease of concealment.[1]
References
Edit
Ad blocker interference detected!
Wikia is a free-to-use site that makes money from advertising. We have a modified experience for viewers using ad blockers

Wikia is not accessible if you've made further modifications. Remove the custom ad blocker rule(s) and the page will load as expected.