Crossplays
Edit
Background
Edit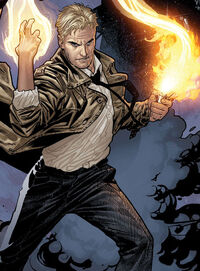 John Constantine is the protagonist of the comic book series Hellblazer. Although a compassionate humanist who struggles to overcome the influence of both Heaven and Hell over humanity and despite his occasional forays into heroism, Constantine is a foul-mouthed cynic who pursues a life of sorcery and danger. His motivation has been attributed to an adrenaline addiction that only the strange and mysterious can sate. He also seems to be something of a "weirdness magnet".
Since Constantine ages in real time, his appearance has changed with age. Throughout the series he is usually portrayed with blond short hair (sometimes lighter or longer depending on the artist of the issue) and blue eyes. Some issues have him with facial hair while others give him a clean shave. While Constantine has worn many clothes over the years he was originally portrayed as often wearing a blue pin-stripe suit, tan trench coat and occasionally gloves. As the series progressed his trademark attire became a grungier, more rumpled trench coat, white shirt and black tie. Constantine chain-smokes Silk Cut cigarettes, consuming thirty or so a day.[1]
References
Edit
Ad blocker interference detected!
Wikia is a free-to-use site that makes money from advertising. We have a modified experience for viewers using ad blockers

Wikia is not accessible if you've made further modifications. Remove the custom ad blocker rule(s) and the page will load as expected.