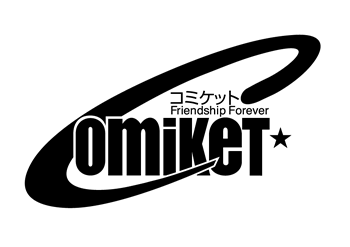 The Comic Market (Comiket) is a marketplace where individuals can offer their own self-produced creations to a community that appreciates and supports such creative personal activities. Comiket primarily focuses on acting as a communal exchange place for self-published books, known as dojinshi. Japanese dictionaries define dojinshi as self-published material aimed toward likeminded individuals and the Comic Market invites any publication (books, music, films, software, etc.) published by individuals that are not available through standard commercial outlets.
One goal of the Comic Market is aiding creative efforts conducted outside the established commercial realms, and hereby encourage innovation and interaction within the overall community revolving around manga, anime, and games. Comiket places emphasis on community building that empowers individual creativity, initiative, freedom, and to that end we strive our best to accommodate a large and diverse collection of dojinshi publishing groups, known as cir- cles, to offer their dojinshi (non-corporate, limited distribution publications).
Comiket was established out of frustrations regarding existing manga fan events and disappointment at the lack of diversity in commercial publications in the mid 1970's. Many venues where manga fans could converge tended to be narrow-minded and outlets for experimental young manga authors were limited in the commercial sphere, thus a manga critique group Meikyu ("Labyrinth") not only started publishing a manga review dojinshi, but also established an event where manga authors and creators of other mediums could share their publications. The small startup event only featured 32 circles and approximately 700 people attending, taking place in a relatively small conference space, and yet the basic constructs of the Comic Market were already in place. Namely, an event focused on individual's personal creations, regular attendees supporting and encouraging such creative efforts, a volunteer group managing the operation of the event, and all parties involved doing their best to help each other.
In recent years, the Comic Market has grown to become an event with over 35 years of history, boasting 35,000 dojinshi circles and 500,000 general attendees at each session, usually held twice a year. Dojinshi authors and fans from all over Japan, and some from overseas, converge upon Comiket to directly intermingle among their peers, with whom they share a common devotion toward a diverse and unique range of creative works, made possible by independence, imagination, and self-expression.
Ad blocker interference detected!
Wikia is a free-to-use site that makes money from advertising. We have a modified experience for viewers using ad blockers

Wikia is not accessible if you've made further modifications. Remove the custom ad blocker rule(s) and the page will load as expected.