Cosplays
Edit
Background
Edit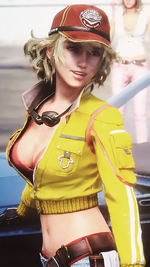 Cindy, or Cidney, is a character in Final Fantasy XV. She introduces herself to the party as the head mechanic, much like the recurring character from the series, Cid, who is her grandfather.
Cindy is a slender woman with short, curly blonde hair and olive green eyes. She wears a red cap with yellow outlines and a logo with the words "HAMMER HEAD" and "FULL SERVICE STATION" and black goggles which she hangs around her neck when not using them. Cindy wears a cropped yellow jacket that reveals her stomach zipped a few inches under her breasts, and an orange bikini top with deep décolletage. She wears jeans shorts with a brown belt loosely hanging around her hips, thigh-high black stockings, white high boots on heels, and brown gloves.[1]
References
Edit
Ad blocker interference detected!
Wikia is a free-to-use site that makes money from advertising. We have a modified experience for viewers using ad blockers

Wikia is not accessible if you've made further modifications. Remove the custom ad blocker rule(s) and the page will load as expected.