Cosplays
Edit
Background
Edit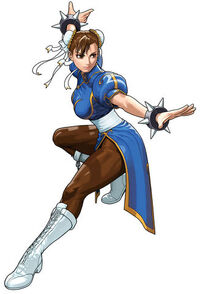 Chun-Li is a character in the Street Fighter series. She is the first female player character that appears in the series, one of the series' major lead characters alongside Ryu and Ken and the first playable female character to appear in a 1-on-1 fighting game. Introduced in Street Fighter II, Chun-Li was the only female character in the game, as well as one of the youngest fighters, and while not as physically powerful as the other characters, she is by far the quickest. She is one of the most popular playable female characters in the series.
Her most famous attack is the Hyakuretsukyaku ("Hundred Rending Legs", commonly known as the "Lightning Kick"), where she repeatedly kicks her opponent from a tilted standing position with incredible speed.[1]
References
Edit
Ad blocker interference detected!
Wikia is a free-to-use site that makes money from advertising. We have a modified experience for viewers using ad blockers

Wikia is not accessible if you've made further modifications. Remove the custom ad blocker rule(s) and the page will load as expected.