Cosplays
Edit
Background
Edit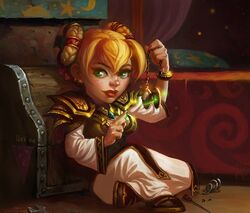 This character is from the Warcraft franchise.
Chronormu is a female bronze dragon. As a member of the bronze dragonflight, Chronormu seeks to maintain and restore various timelines of importance in Azeroth's recent history. Her preferred guise when dealing with mortals is Chromie, a charismatic gnome.
The more time spent with these mortals, the more sympathetic the bronze agent became with their desperate plight, and mourned the losses to the Scourge. When Carlin Redpath, hoping to undo the curse on the soul of his brother, heard about the strange little gnome, he sent his friends to speak with her, equipped with Joseph's wedding ring. Upon receiving the ring, Chromie immediately knew much of Joseph — that he was a great man who had suffered an unspeakable tragedy, and knew it was too late to save him in the present, but not in the past.[1]
References
Edit