Cosplay reference kit
Edit
Background
Edit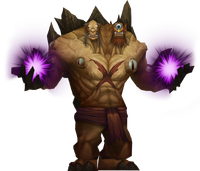 Cho'gall is a hero from Heroes of the Storm based on the character from World of Warcraft.
Cho'gall, Initiate of the Fifth Circle of the Shadow Council and Chieftain of the Twilight's Hammer clan, is a two-headed ogre and the first of the ogre magi. He was an apprentice of Gul'dan. Cho'gall, as with a number of ogres of his type, actually has two names, one for each head — Cho and Gall.
Ad blocker interference detected!
Wikia is a free-to-use site that makes money from advertising. We have a modified experience for viewers using ad blockers

Wikia is not accessible if you've made further modifications. Remove the custom ad blocker rule(s) and the page will load as expected.