Chihiro Fujisaki is a character who was murdered in the second chapter of Danganronpa; Trigger happy havoc.
Also having acquired a weakness-complex due to his feminine look, Chihiro is indeed male, so it is a good character for people who like to dabble in cross-dressing or for people who are just starting out on cosplay due to his simple wardrobe.
Chihiro wears a white polo under a small green blazer with a black ribbon around his neck. A brown skirt, knee high socks and pinkish-white doll-like shoes sit under his waist. A green sweatshirt or cotton jumper can easily be altered to look like Chihiro's blazer, and small brown buttons can be sewn on a skirt that can be purchased in a school section of a grocery store. This is not required, but chihiro also wears suspenders under his blazer.
Chihiro's makeup, you need to focus on his skin and eye makeup. Chihiro has very clear and smooth skin, so only a light amount of foundation and blush are needed. For his eyes, use thick eyelashes and subtle Colors that match his color scheme, such as light greens, browns and peaches.
Links to helpful tutorials are listed below.
https://www.youtube.com/playlist?list=PLV-SYjACeyhIdg4jhBUj3a8rS0VX11loL
https://www.youtube.com/playlist?list=PLV-SYjACeyhIdg4jhBUj3a8rS0VX11loL
For those who want to buy their costume, I reccomend this site;
http://www.aliexpress.com/cheap/cheap-chihiro-fujisaki-cosplay.html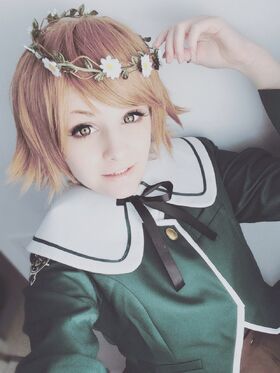 Ad blocker interference detected!
Wikia is a free-to-use site that makes money from advertising. We have a modified experience for viewers using ad blockers

Wikia is not accessible if you've made further modifications. Remove the custom ad blocker rule(s) and the page will load as expected.