Cosplays
Edit
Background
Edit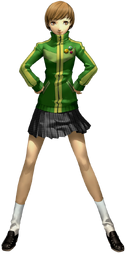 Note: This character is from the Persona series.
Chie is an energetic and outgoing tomboy. She has a bright and upbeat personality, often trying to cheer up the group by joking about the case. She is also obsessed with kung fu and is a huge fan of martial arts movies, most prominently Trial of the Dragon. She can be somewhat short tempered, especially with Yosuke Hanamura, and is slow to back down from a challenge. She also has a poster of Bruce Lee in her room.[1]
References
Edit
Ad blocker interference detected!
Wikia is a free-to-use site that makes money from advertising. We have a modified experience for viewers using ad blockers

Wikia is not accessible if you've made further modifications. Remove the custom ad blocker rule(s) and the page will load as expected.