Crossplays
Edit
Background
Edit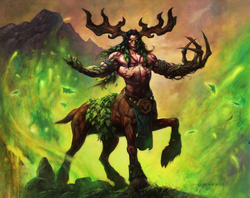 This character is from the Warcraft franchise.
Cenarius is the Lord of the Forest and patron god of all druids regardless of race (along with Elune and Ysera, his mothers, for the night elf druids). He is one of the most powerful and influential demigods of Azeroth.
The giant creature's body resembles a cross between the lower portion of an elk and the upper torso of male night elf. Standing perfectly motionless on four heavily muscled legs, the creature exudes an air of serene confidence. Its body glows with a soothing green light that strangely contrasts with the stern look on its face.[1]
References
Edit
Ad blocker interference detected!
Wikia is a free-to-use site that makes money from advertising. We have a modified experience for viewers using ad blockers

Wikia is not accessible if you've made further modifications. Remove the custom ad blocker rule(s) and the page will load as expected.