Cosplays
Edit
Background
Edit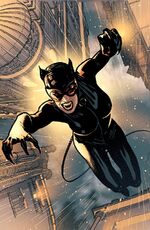 Although originally introduced as an equal opponent for Batman, Catwoman's status as hero or villain is ambiguous; she has her own moral code and has occasionally teamed up with Batman and other heroes against greater threats, even saving the lives of the entire Justice League on one occasion. She represents a gray area in Batman's otherwise black and white life where the line between good and evil blurs, and his attraction to her stems from this perception that, in her way, she's kind of a female version of himself: another dark creature that prowls the night.[1]
References
Edit
Ad blocker interference detected!
Wikia is a free-to-use site that makes money from advertising. We have a modified experience for viewers using ad blockers

Wikia is not accessible if you've made further modifications. Remove the custom ad blocker rule(s) and the page will load as expected.