Crossplays
Edit
Background
Edit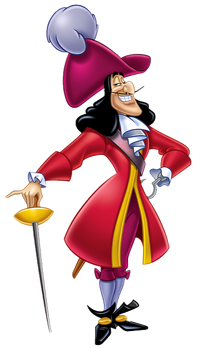 The captain of a crew of pirates, Captain Hook has long since abandoned sailing the high seas in favor of having revenge on Peter Pan for ruining his life. While a worthy opponent for Peter Pan, Hook is destined to fail, sometimes because of Peter Pan's ability to fly, but more often through the bumbling actions of his mate Mr. Smee, who is unquestioningly faithful to the Captain, but is incompetent and dim-witted. Hook invariably ends up fleeing for his life from the Crocodile, of whom he is understandably terrified.
Hook's frustrations are understandable; he lost a hand to his opponent, is constantly pursued by the crocodile, and cannot fly. These factors arguably make him one of the more sympathetic Disney Villains, as well as one of the most popular. His antics with the Crocodile are considered by many to be the funniest animated scenes ever created by Disney according to Frank Thomas and Ollie Johnston in the book The Disney Villain.[1]
References
Edit
Ad blocker interference detected!
Wikia is a free-to-use site that makes money from advertising. We have a modified experience for viewers using ad blockers

Wikia is not accessible if you've made further modifications. Remove the custom ad blocker rule(s) and the page will load as expected.