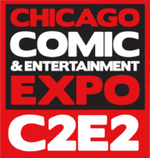 The Chicago Comic & Entertainment Expo - also known as C2E2 - is a convention spanning the latest and greatest from the worlds of comics, movies, television, toys, anime, manga and video games. Bringing the best of popular culture to Downtown Chicago, C2E2's show floor is packed with hundreds of exhibitors, panels and autograph sessions giving fans a chance to interact with their favorite creators and screening rooms featuring sneak peeks at films and television shows months before they hit either the big or small screen!
Galleries: 2014
In partnership with Wikia, the C2E2 Crown Championships of Cosplay is the largest and most prestigious cosplay competition in the United States. As the final stop of the Quest for the Crown global cosplay competition circuit, it features the best cosplayers from around the globe competing for over $10,000 in cash and prizes and the glory of being titled the C2E2 Crown Champion of Cosplay.
Thousands of Fans will watch in person in Chicago at C2E2 while Fans from around the world will tune in via the official C2E2 Livestream to cheer on their favorite cosplayers as they vie for the Crown.
External links
Edit
Ad blocker interference detected!
Wikia is a free-to-use site that makes money from advertising. We have a modified experience for viewers using ad blockers

Wikia is not accessible if you've made further modifications. Remove the custom ad blocker rule(s) and the page will load as expected.