Cosplays
Edit
Background
Edit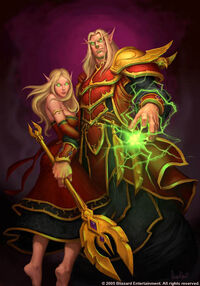 This race is from the Warcraft franchise.
The blood elves or Sin'dorei in Thalassian ("children of the blood"), are a race composed of former high elves who renamed themselves in honor of their people who were killed during the siege of Quel'Thalas by the Scourge during the Third War. The blood elves of Azeroth joined the Horde in the Burning Crusade expansion, seeking to reunite with Prince Kael'thas Sunstrider in Outland.
They have since reclaimed their capital of Silvermoon City, situated in Eversong Woods. Lor'themar Theron led them in Kael'thas' absence. Now, having discovered Kael'thas' true objective (to summon Kil'jaeden to the world), the blood elves of Silvermoon have abandoned him. Lor'themar Theron, Halduron Brightwing, and Grand Magister Rommath have been presiding over Silvermoon in the absence of any officially appointed leader.[1]
References
Edit
Ad blocker interference detected!
Wikia is a free-to-use site that makes money from advertising. We have a modified experience for viewers using ad blockers

Wikia is not accessible if you've made further modifications. Remove the custom ad blocker rule(s) and the page will load as expected.