Cosplays
Edit
Background
Edit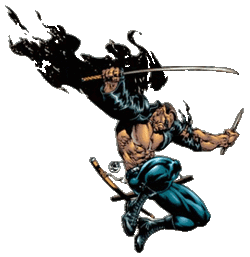 Eric Brooks, the man later known as Blade, was born in Soho, London, in 1929. His father, Lucas Cross, a member of the secret society the Order of Tyrana, sent his pregnant wife Tara to England before he was taken prisoner in Latveria. There she took the name Vanessa Brooks and found shelter with brothel owner Madame Vanity, another member of the Order of Tyrana. Experiencing labor complications, Tara was forced to seek a doctor's assistance. The doctor, Deacon Frost, was actually a ravenous vampire and feasted on the woman as she gave birth, passing on a series of enzymes that altered her baby. The enzymes entered the infant's bloodstream, transforming him into a being tainted by a vampire's kiss, but not converted. In other words half-man, half-vampire.[1]
References
Edit
Ad blocker interference detected!
Wikia is a free-to-use site that makes money from advertising. We have a modified experience for viewers using ad blockers

Wikia is not accessible if you've made further modifications. Remove the custom ad blocker rule(s) and the page will load as expected.