Cosplays
Edit
Background
Edit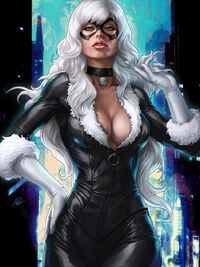 Black Cat is a reformed burglar who continues to walk on the wild side as a detective and adventurer. She's the former girlfriend of Spider-Man, Flash Thompson, and the mercenary known as the Foreigner.
Felicia Hardy grew up as "daddy's little girl," idolizing her father. When Walter Hardy suddenly disappeared, Felicia's mother, Lydia, told her that he had died in a plane crash; in reality, he had been incarcerated for his crimes as a notorious cat burglar. Upon discovering the truth about her father, Felicia became inspired to follow in his footsteps.[1]
References
Edit
Ad blocker interference detected!
Wikia is a free-to-use site that makes money from advertising. We have a modified experience for viewers using ad blockers

Wikia is not accessible if you've made further modifications. Remove the custom ad blocker rule(s) and the page will load as expected.